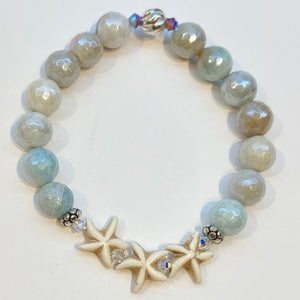 Jewelry by TFC
Barbara at the Beach
Regular price
$ 62.00
$ 0.00
Say hello to "Barbara at the Beach", one of the most meaningful bracelets I've ever created.  Let me share with you why...
In 1988, I met Barbara at my boys' pediatrician office … she was one of the nurses.  Then, shortly after, she and her husband Rick, showed up as patients in my dental chair. Barbara continued to care for my kids, and I continued to care for her and Rick's oral health until we moved to Florida in 2010.  Over the years, we became more than patients of each other, we became friends.  We had lots in common … Barbara and Rick even visited Matt and I in Florida. We even shared a love of the Pittsburgh Steelers; something very rare in Maryland!  
Fast forward to December 2019 when I got the horrible news that Barbara was diagnosed with Pancreatic Cancer.  She had asked for me to design a bracelet for her to give to a friend who was helping her through her tough time.  Barbara and I designed this bracelet together using gorgeous gemstones, Swarovski crystals and sterling silver … some of my ideas, some of hers … and we came up with our final product … well, almost… 
In November 2020, Barbara sadly lost her battle with cancer and passed away.  To honor her, I donated a percentage of the sales of this bracelet to the "Great 100 Nurses Foundation",  a charity who's mission is to recognize outstanding members of the nursing profession and to raise funds for nursing scholarships.  Barbara loved nursing, so this seemed to be a great charity of which she'd approve.  Rick had one request … Barbara loved purple … so you'll notice that there's a touch of sparkling purple Swarovski in the back of the bracelet.  Barbara and Rick were always a great team, both in life, and apparently in designing bracelets, because "Barbara at the Beach" is a beauty! 
I hope you enjoy wearing "Barbara at the Beach" and feel her magic when you do!
UPDATE:  2022 :  "Barbara the the Beach" was such a beautiful bracelet and such a success story for our Jewelry for a Cause for 2021.  Thanks to all of you, our TFC Family, we were able to donate $1000 for nurses at the end of this campaign.  I want to sincerely thank you all for supporting us and nurses in 2021.  
Sizing:
Small: Fits a 6 inch wrist (For those with a small to average wrist.)
Medium: Fits a 6.5 inch wrist  (Will fit most women.  A safe choice for gifting)  
Large: Fits a 7 inch wrist (For larger wrists.)
X-Large:  Fits a 7.5 inch wrist 
Custom sizes available
---
More from this collection